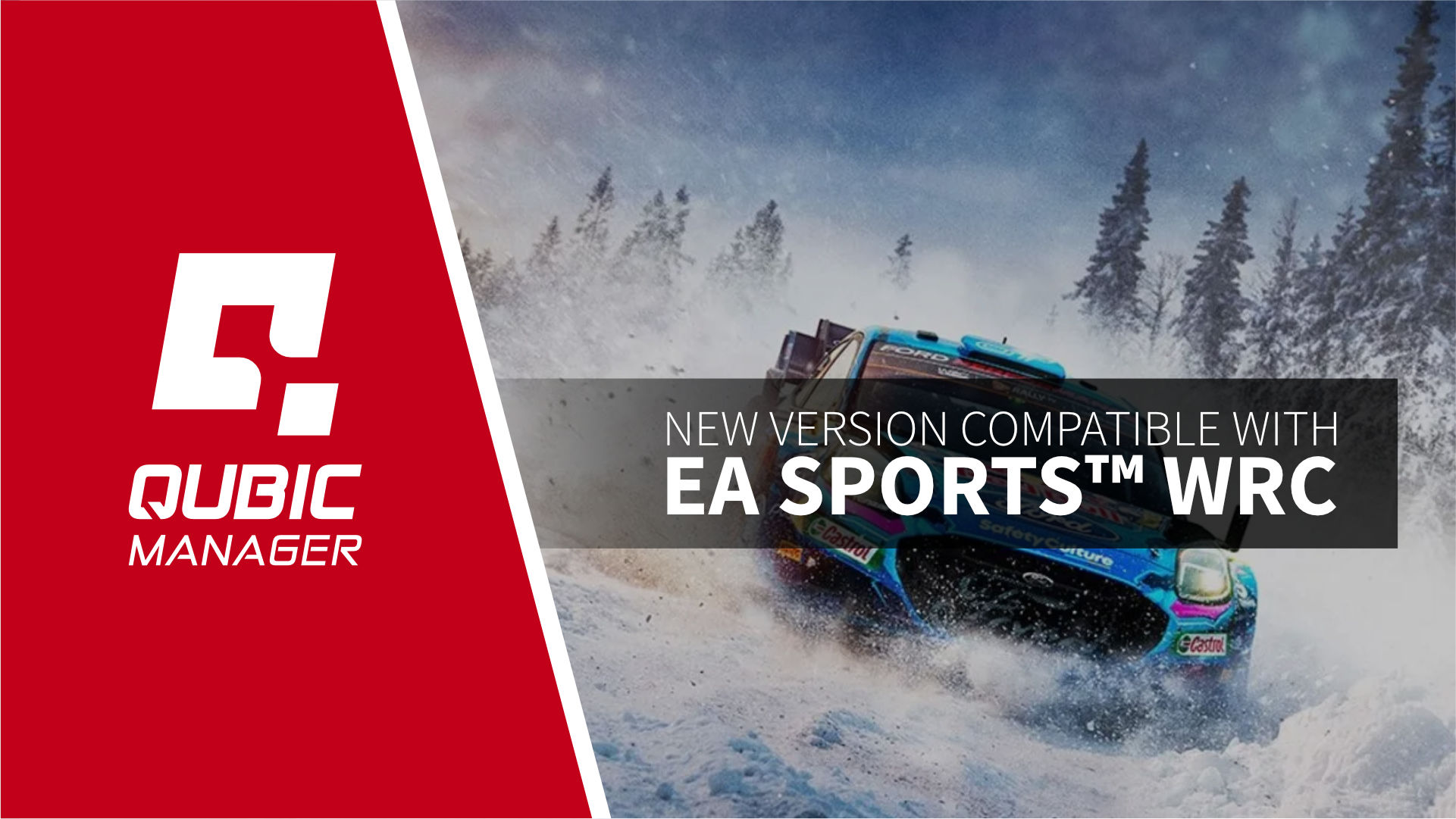 NEW VERSION!
2.137 IS AVAILABLE FOR DOWNLOAD
In the latest release of Qubic Manager, our team has focused on the full integration with the latest WRC game. This ensures users can enjoy a comprehensive experience aligned with the latest trends in the world of rally games.
Additionally, we've implemented various minor changes aimed at enhancing performance and improving the overall functionality of the application. Our goal is not only to provide full compatibility with the latest game but also to offer users even better service quality and functionality. Thank you for your trust, and we encourage you to make the most of the latest version of Qubic Manager!
CHANGELOG
LATEST CHANGES IN NEW RELEASE
2023.11.16: version 2.137:
New features and fixes
CL01 – Flight Simulator 2020: Updated SimConnect to 0.22.3.0.
CL02 – OpenVR SDK: Updated to 2.0.10.
CL03 – EA Sports WRC: Implemented support for official UDP protocol.
Known limitations
KL01 – Aerofly FS2/FS4: The 'accelerations' data rate is 1 Hz and 'bank/pitch' data rate is 10Hz. In order to work with that slow telemetry rates, the motion profile uses mainly roll, pitch and yaw + interpolation when possible.
KL02 – DCS World: Not all planes provide engine RPM for Tactile Audio Based Feedback system.
KL03 – KartKraft: Support for CKAS has to be disabled in game settings, otherwise the platform manager crashes. This is caused by a bug in the game SDK.
KL04 – WRC 7, 8, 9, 10: Unofficial 3rd party component is used to retrieve telemetry data. The component might stop working if game update is deployed making the component incompatible.
KL05 – Flight Simulator 2020: The game runs the simulation partially even when the user is in the main menu but does not provide any flag to indicate this, and as a result, causes undesired operation of the motion platform. This issue is partially suppressed by intelligent "main menu" detector however the detector does not work perfectly and sometimes causes a false positive detection when the aircraft is idling on the runway.
KL06 – The Crew 2: The game tends to send corrupted telemetry data (crazy accelerations and velocities) in areas around bridges. In order to avoid violent motion platform operation, this condition is detected and filtered out, resulting in a quite suppressed motion.
KL07 – WRC Generations: The game does NOT output telemetry data during training sessions and DOES output unwanted telemetry data during loading and post-race stages. There are also unexpected peaks in telemetry data that affects motion platform operation.
SHARE THIS STORY ANYWHERE YOU LIKE
SHARE THIS STORY ANYWHERE