INTRODUCTION
Even most advanced hardware is nothing without good software. QubicManager is professional and specialized software for the platform and is click and play compatible with all major racing and flight titles on PC and constantly updated to support new applications as they are released. Gives user possibilities of motion adjustments, motion post-processing, extensive diagnostic or easy and fast use of predefined profiles.
The QubicManager is a powerful engine, yet it is easy to use meaning you can adjust levels of motion, bumps, roll and pitch with a click of a button. By using dedicated software Qubic Manager the user can use several sets to create the most realistic simulation that immediately responds to onscreen situations to deliver real life experience in gaming or VR applications. Find out more why the QubicManager is an indispensable tool for the perfect motion system control.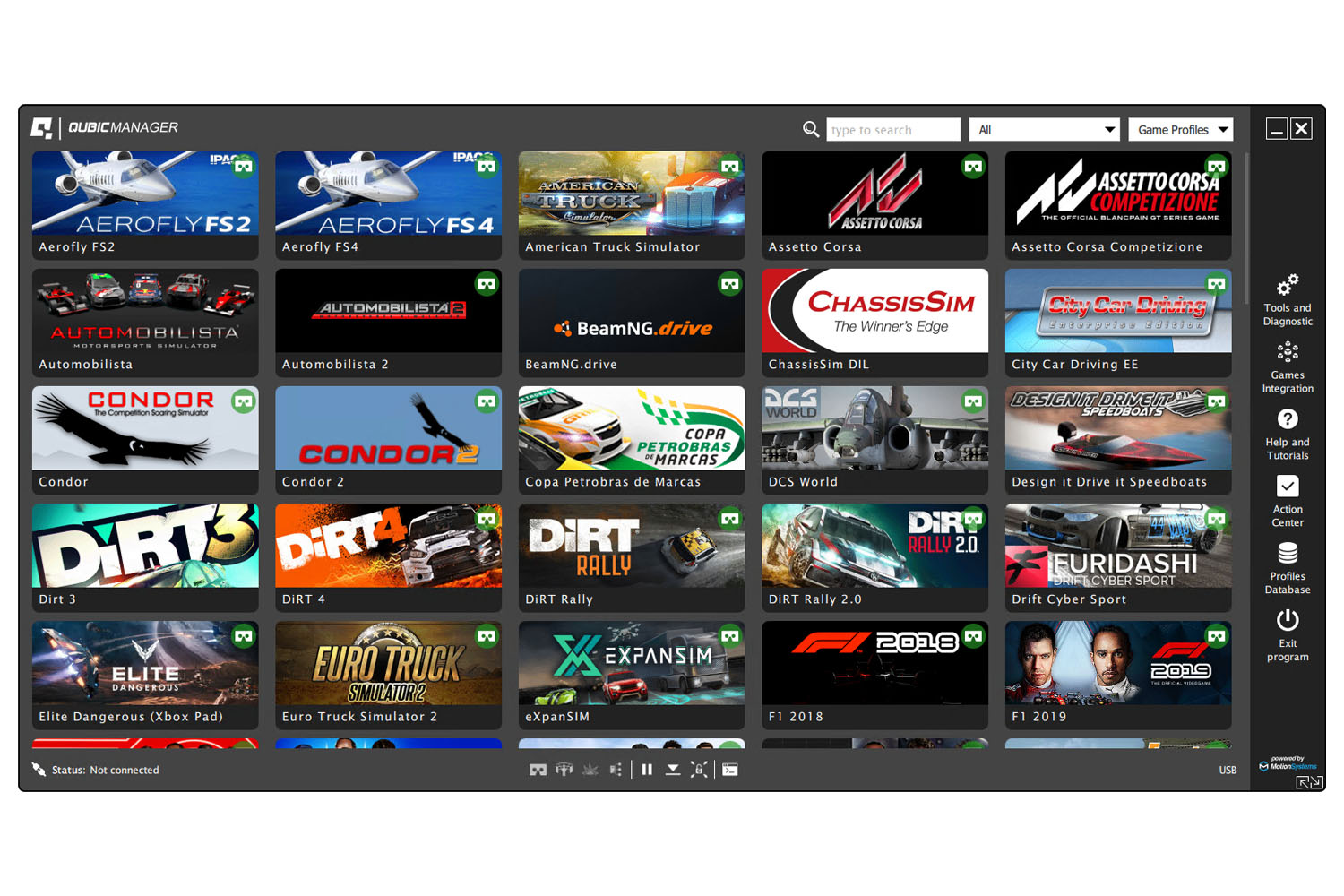 Diagnostic Panel enables users to fully diagnose motion parameters in real time and allows to check how the telemetry data sent from the game affects the movement of linear actuators.

Cooperation with well known rally drivers allows us to develop and stabilize our software. Due to the experience gained on the largest European tracks, our experts look at sim racing from a professional perspective.
Regardless of the number of actuators in your rig you can set up a motion cockpit within minutes using the highline professional Hardware Configuration Panel and its layout presets.
All our motion systems are delivered with a continuously updates, easy to use QubicManager software, compatible to use with all major racing and flight simulators on PC. This application delivers direct and precise feedback to your hardware.

The VR HeadWay using advanced mathematic formulas to calculate necessary compensation and applies it to the VR headset at runtime meaning the most authentic simulation.

Tactile Audio Based Feedback System generate additional effects on your cockpit from sound card.  The system is designed to assist the motion platform operation, not to provide a main source.

This professional application delivering feedback from the game to the hardware with top precision, without any lag.

Improve quality of the motion compensation with information about player head position.

 QubicManager was designed to be used by beginners, semi pro and pro racers, it has a simple-to-use dashboard to start your game and change major settings at one click.
QubicManager is not only functional and easy-to-use software that allows to control the motion platforms, it is also an advanced diagnostic tool which includes:
Help and Support with Snapshots
ZIP logs option
Tool and Diagnostic Panel with Kinematic Diagnostic
VR Debug Graphs, Game Data Payback
Platform Diagnostic
Dashboard Diagnostic functions
We are VR ready. QubicManager supports most of the well known VR headsets:
Oculus Rift – Windows PC
Oculus Rift S – Windows PC
Oculus Quest – connected via USB to Windows PC
HTC Vive/HTC Vive Pro/HTC Vive Pro 2 – Windows PC
VRgineers XTAL – tested with HTC Base Stations in native and SteamVR mode
Varjo VR-1 – tested with HTC Base Stations in native, SteamVR and OpenXR modes
Varjo Aero – Windows PC
HP Reverb G2 – Windows PC
Other headsets compatible with SteamVR or OpenXR (*)
*We do not guarantee proper operation for untested devices.
Below are system requirements that allows to run QubicManager. Please notice that your configuration also has to meet each game's system requirements.
Supported operating systems:
Microsoft Windows 10 x64
Microsoft Windows 11 x64
Additionally:
At least 512MB of free RAM
At least 220MB free space on system partition
USB port 2.0 (or faster) or Ethernet port
Linux-based PCs, Playstation 3/4/5 and Xbox 360/One/X are not supported.